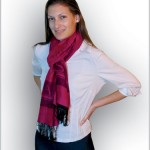 Who knew that the shawl that our grandmothers used to wear would become such a hot fashion accessory? But now, instead of calling it a shawl, it is called a "Pashmina".  But other than wearing it like my grandmother did, across her back and shoulders or tied around my neck, how do I wear a pashmina and look chic?!
First an interesting tidbit - "Pashmina" is an actually type of material, wool from a specific breed of goat found in the Himalayas, it has become the name used for almost any shawl, wrap, stole or scarf. Pashminas typically measure about 36″x80" and are now made in wools, silks, as well as from synthetic fabrics.
So now here are some ways you can wear a pashmina year around to add some extra style to your casual or dressy outfits.  Because remmeber – it's about how you look!
Shawl The way grandmother used to wear it, remember? You can carry your pashmina along for this look. If you suddenly feel chilly, drape your pashmina around your shoulders and you're all set. You can either tie it or use a clip to keep it secure.
Stole Similar to the shawl style, wear your pashmina draped over your shoulders and across your front for an elegant evening look.
Belt or Sarong Style Easy to do it: just wrap the pashina around your waist and drape it nicely. It should be casual and loose, but tight enough to keep the pashmina on your body.
Hollywood Requires two different colored pashminas. Fold each two or three times lengthwise, loosely intertwine them and then drape around your neck. You can leave both ends hanging in front or back, or you can drape one end in front and the other in back.
Grace Kelly Style Put the pashmina over your head, cross the sides under your chin and pull to the back of you. You can tie in a knot; or you can tie in a knot on the side of your neck.
Sash Drape your pashmina over one shoulder and bring it down and across your body to the opposite hip. To keep it secure you can either make a knot or use a pin.
Reverse Scarf Fold your pashmina lengthwise to the width you desire. Instead of wearing it around the back of your neck and letting it fall in front, place the middle of it in front of your neck and allow the ends to fall behind you.
Noose Wrap Fold your pashmina in half along the length. Now fold it in half again, but this time, fold it along its width. You should now have an end that is folded and an end that is still open. Place the folded end behind your head; pull the open end through the loop of the folded end.