Ingredients: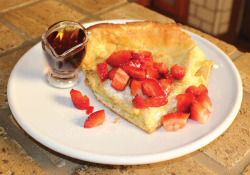 1 cup whole milk
4 large eggs
2 teaspoons vanilla extract
1/4 teaspoon salt
1 cup all-purpose flour
2 tablespoons butter
1 tablespoon sugar
Directions:
1. Turn the oven to 425°
2. Vigorously whisk the milk, eggs, vanilla, salt and sugar in a bowl until smooth.  You can use a blender to ensure that the batter is smooth.
3. In a heavy bottom 10 inch skillet heat butter over medium heat until brown.  A cast-iron pan works well.
4. Pour the milk and egg mixture into skillet. Transfer to the oven and bake until puffed and golden, about 15 to 17 min minutes in a 425° oven
5. Serve immediately from the skillet with syrup and fresh fruit.