Mariposa Magazine has recently become acquainted with the North Valley Caring Services (NVCS) which began as an outgrowth of the Sepulveda United Methodist Church, and has been serving the North Hills California area for over 35 years. We think that this is a great organization and we want to make sure that you know about it.
Originally organized as a breakfast kitchen for the area's homeless population, NVCS continues to serve all disadvantaged residents via its Breakfast Program and Food Pantry. Expanding their services in 1992, the NVCS campus became a Shalom Zone to advocate, mediate and counsel residents caught in the uproar of the Los Angeles riots.
Since then, they have continued to evolve, mature and improve, becoming a 501c.3 organization in 1995. From its humble beginnings as a soup kitchen, the agency has grown to offer an array of programs that help individuals and families succeed in life.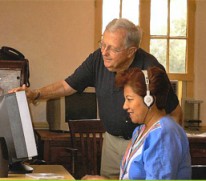 Today they provide a comprehensive Family Literacy Program including Adult ESL Courses, Early Childhood Education, and Parenting Classes; a Youth Program and a Workforce Development program. In addition to these larger programs, NVCS has added further services in response to community requirements, including the Holiday Toy Give-Away, the Thanksgiving Meal, Health Screenings and Referral Services and executive director, Ivette Pineda hopes to expand services even more.
The Youth Program is year-round and provides homework help and fun activities for kids and teens weekday afternoons from 1-6 pm. Grounded in youth development concepts, this program provides students with a safe environment they can call their own. Activities include homework help, supervised reading, organized sports, arts and crafts, gardening, enrichment classes, and field trips.
The Family Literacy Program is multifaceted and designed to educate both parents and children in the literacy skills they will need to succeed in work and school. Beginning with the Early Childhood Education (ECE) Center, preschoolers learn the basics: ABCs, colors, numbers, names and shapes. While their children are engaged at the ECE Center, staffed by NVCS, parents study in rigorous ESL Courses for four hours a day, five days week, which are taught by an instructor from West Valley Occupational Center. The Family Literacy Program provides preschoolers the preparation they will need for school, while also encouraging and helping their parents to learn the English skills necessary to assist their children with their homework, obtain jobs that require English skills and advocate for their children in other life situations.
The Family Literacy Program includes required Parenting Education classes which are offered in conjunction with their partner organization Friends of the Family. The monthly curriculum for these classes is focused on increasing the resources as well as widening the social network parents are able to find in their community. The topics and values covered in these classes boost their parental role in their child's formal education and carry over into the program's required Parenting and Child Interactive Literacy Activities in which children and parents interact through shared reading and homework designed to advance the education and English language ability of entire families. In the Family Literacy Program families begin a new exciting journey together, opening up a world of opportunity to all.
North Valley Caring Services provides great resources to help individuals and families build a better life and community.