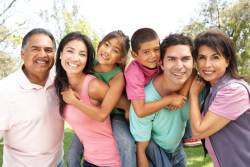 When they found the cancer it was too late for my mom.  It had spread to her liver. She died 30 days later.  However, if found early the survival rates are outstanding.
Screening For Colon Cancer Saves Lives, by Lester Lewis
When Lupe Vaszquez was about forty-five years old, she began feeling symptoms of abdominal discomfort.  At first she assumed it was gas or indigestion.  Only after she awoke one morning in great pain did she go to the doctor.  The result?  Lupe had colon cancer. During emergency surgery, cancer was also discovered in her liver.   What followed were months of treatment.
She has now been cancer-free for eight years and regrets not having been screened years before. "The awkwardness of going in for that test is nothing in comparison to the agony of going through the chemotherapy and spending most of your time throwing up, or with diarrhea," says Lupe. "I wouldn't wish it upon my worst enemy."
What Lupe discovered is that if detected early, the five-year survival rate for colon cancer is nearly 91%.  Yet colon cancer is the second leading cause of cancer death among Latino men and the third for Latino women.  The problem today is that only about 38% of Latinos over age 50 are being screened. Thousands of Latino men and women are dying of colon cancer unnecessarily each year. Luckily they have the power to improve this situation.
"We have an opportunity to significantly reduce death rates from colon cancer among Latinos through regular screening," said Felix Aguilar, MD, American Cancer Society volunteer. "Finding and removing polyps before they become cancerous can help prevent colon cancer altogether."
The American Cancer Society recommends that men and women at average risk for colon cancer begin screening at age 50.  Those at increased risk should talk to their doctor about starting screening before age 50.  Tests that can detect precancerous polyps and cancer are preferred to tests that detect cancer alone.
In addition, Latinas often influence what a family eats. To avoid colon cancer, it is important to consume at least five servings of fruit and vegetables and to avoid processed foods, animal fats like butter and lard, and red meat.  Exercising thirty minutes a day and quitting smoking also decrease a person's cancer risk.   Additionally, women should have no more than one alcoholic drink per day, men no more that two.
There are other risk factors for colon cancer of which women should be aware of. Does it run in the family?  Do you or a loved one have Inflammatory Bowel Disease?  Are you or a loved one obese?  All these increase one's risk and make regular screening necessary even before age 50, since early colon cancer often has no symptoms. You or a loved one may not know you have colon cancer until the disease as at an advanced stage.  But with regular screening it can be prevented.
The incidence-rates of colon cancer in California have declined significantly for all four major racial/ethnic groups. Since 1988 there has been a decrease of 30% among non-Hispanic whites, 18% among African Americans, 14% among Asian/Pacific Islanders and 6% among Latinos.  This is encouraging, but there is more work to be done.  Please take the time to learn more about colon cancer and to make sure both you and your loved ones are being screened regularly.  With early detection, colon cancer can be treated and, in many cases, cured.
If You Need Assistance Learning More, Visit www.cancer.org
Or call the American Cancer Society at 800.227.2345 toll-free. When you call, you will hear English. Do not hang up. Push 2 on your phone for Spanish. You can ask a cancer expert these questions: