Throughout the month of March over 2000 people in Southern California have received absolutely free dental care services, absolutely.
For the 7th year in a row California Dental Group has made a very positive difference in the community by hosting Free Emergency Dental Care Days as part of their growing annual effort to serve those who don't have the money to go to the dentist.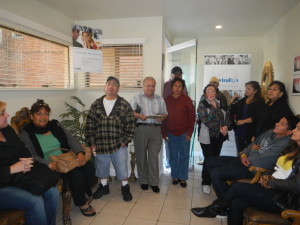 Everything from fillings, emergency root canals, extractions, toothache treatments, cleaning of infected gums and more were provided, at absolutely no cost, to as many people as possible between the hours of 9am and 5pm, on a first come, first serve basis. 
Realizing that many people are struggling in the current economy, California Dental Group wants to give people, who couldn't otherwise afford it, an opportunity to take care of dental problems before they become more serious, and more costly.
California Dental Group sees hundreds of patients per month.  Yet, according to Dr. Kamran Sahabi, owner of California Dental Group, "We see an amazing number of people who need treatment and can't afford it.  We come across this every day. So I decided that we needed to address this serious health issue."
Each of California Dental Group's six locations, Glendale, Los Angeles, North Hollywood, Oxnard, Upland, and Whittier, now devotes at least one day per year to providing free dental care to the community.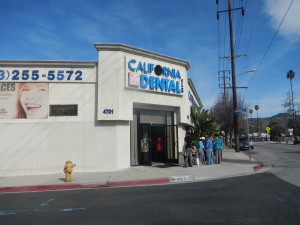 Dr. Sahabi considers the cost of the giveaway in staff time and supplies as "not really important."
"What is important is that people understand the two main problems in dental care — tooth decay and gum disease — and that they are both preventable with good hygiene and regular visits to the dentist.   It makes us feel great to be able to provide these Free Emergency Dental Care Days to the community.  People start lining up early in the morning; the more we're able to help, the better!"
California Dental Group has been serving Southern California for over 21 years and is a recognized leader in all aspects of dental services including family dentistry, dental implants, and all cosmetic dentistry procedures.  California Dental Group is accredited with the American Dental Association and California Dental Association. The highly trained staff of dentists is licensed to practice by the Dental Board of California and all specialists are Board certified.
California Dental Group's six offices are centrally located in:
Glendale – 609 S. Glendale Ave., Glendale 91205 – (818) 543-3222
Los Angeles – 4701 Eagle Rock Blvd., Los Angeles 90041 – (323)255-5572
North Hollywood – 10400 W. Magnolia Blvd., North Hollywood 91601 – (818)762-4440
Oxnard – 305 E. Port Hueneme, Port Hueneme 93041 – (805)488-1112
Upland – 930 W. Foothill Blvd., Suite D, Upland, CA 91786 – (909)
Whittier – 14322 Telegraph Rd., Suite A, Whittier 90604 – (562) 968-5151
To find out more please visit http://CAdentalgroup.com