Not everyone you know would video document their cancer treatment progress and put it online for all to see.  It takes a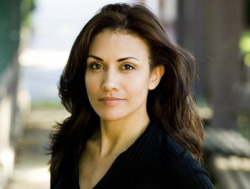 passionate individual with a message to do something like that!  Lourdes Colon has a message and she is ready for the world to hear it.  She wants to encourage people not to be afraid of the "C" word but to deal with it head on when it enters ones life.  Fear and the obstacle it puts in the way to achieving one's goals is not what she is about.  She is about taking control of the situation, learning about all the options, and choosing what works best for an individual, even if that means taking an alternative route.
After being born in Puerto Rico, Colon moved to a small Suburb of Chicago, Illinois where she spent most of her life.  She attended Waukegan High School and took theater courses at College of Lake County.  But she knew there were bigger things in store for her, so she headed west to Hollywood in 2001.  Not knowing anyone in town and having no leads to go on; she had to make it on her own. After tirelessly giving out her headshot to countless people, she was finally invited to be part of a showcase of actors that performed in front of Hollywood producers.
From that showcase she landed a major advertising deal that produced many national commercials, and also landed a spot on CBS's television show Without a Trace, where she was placed for consideration to be a nominee for an Emmy Award. She landed a guest starring role on The District, and a hosting gig on Movie Time Showcase. Lourdes has done several other films and appeared in newspapers such as the Los Angeles Times, Hollywood Reporter, Waukegan News Sun, and the Chicago Tribune.
When she was young, there was a closet in the home she lived in that had a big curtain.  She remembers performing in front of it for her mother countless times.  She never knew what she was doing was called acting, she just loved to do it!  It was in her blood. Her mother mostly raised her and her 4 siblings on her own.  Lourdes remembers fondly the fun she had as a child making due with what they had, like sliding down hills on cardboard boxes.Her own mother had the chance of signing a contract to be a professional singer, but the pressure she felt to raise her family swayed her against that dream.  Lourdes would not let the fact she was a mother deter her all, on the contrary, she wanted to show her two daughters that achieving ones dream is a beautiful thing that can happen in life.
Shortly after Lourdes was first diagnosed with Hodgkins Lymphoma, she decided that taking an alternative road to health was what her body needed most. Her family was not supportive at first.  She remembers arguing with her sisters, but eventually her families came around and are now some of her staunchest supporters.
Now living in Los Angeles, she loves her husband dearly who has been a father to her daughters.  She has recently starred in The Kiss, yet is on an acting break for the moment, while she lets her body heal.  But even while on a acting break, she is not on a work break.  She is currently working on a documentary, Create Option C, where she is chronicling her journey.
Option C is the idea that persons diagnosed with cancer need an option C. Option A is usually chemotherapy, and option B is usually choosing no treatment at all.  Lourdes would like Option C to be a valid choice.  Option C would involve a person doing research and listening to their body and figuring out what would work best for them.  And that does not always entail traditional chemotherapy. She wants to be an inspiration for people to feel powerful in their cancer treatment decisions. Lourdes' decision to take her journey with cancer to another level and document everything, to inspire others around the world, came from her love for humanity and watching many of those she loved die from cancer. Lourdes has always strived to be an inspiration to others through being the difference she wants to see in the world. This passion has allowed her to begin her journey of becoming an inspiration to those who, like her, are dealing with cancer. For more about her documentary film and to watch a trailer, go to www.createoptioncthedocumentary.com, the project is also accepting donations to aid in the making of the film. Her YouTube channel is Titaortiz where you can see her video broadcasts