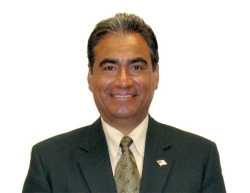 At the age of 12, Edward Reyes worked in the Northern California fields cutting apricots, peaches, and tomatoes. And he hated it.  He wasn't crazy about school, either, because it was always a struggle for him. He wondered why he couldn't comprehend what he had read and why it was so hard for him to learn.  He would stay up until three in the morning studying just to earn a passing grade. School wasn't fun, and he felt badly about himself because, "I thought I wasn't very smart."
It turned out that Ed suffered from dyslexia, a developmental reading disorder that occurs when the brain does not properly recognize and process certain symbols. Unfortunately, nothing was known about this disorder when he was a child, and somehow he just learned to live with it.  Yet he made learning a priority no matter how challenging it was, working three times as hard as the other students just to get a C grade.  But this determination really paid off for Ed when he became an adult and entered the business world.   As he explains, "I have been able to move up quickly in my career because if you work harder you will succeed. I appreciate that our Latino culture teaches us the value of a strong work ethic."
A third-generation Mexican American, Ed grew up in Vacaville.  He is married and has two boys and two sisters.  Ed and his sisters are the first in their family to receive college educations.
Manuel, Ed's father, came to California from Texas with $17.50 in his pocket, on a rail car.  After years of saving, his parents were able to buy a home and achieve the American Dream.  Ed's father began working as a mechanic at Travis Air Force Base where he worked his way up to supervisor and master mechanic.
Ed describes his childhood as a very happy one.  Even though his family didn't have much, he didn't realize it.  He feels very fortunate to have had wonderful parents, and he particularly admires and credits his mother, Elisa (see 83 and Going Strong – The Amazing Lady Behind a Business Success ), with his success in life. It was his mother's urging that got him into college – without her influence, he would not have attended.
While in high school, Ed decided that he wasn't going to go to college because school was so difficult for him.  That's when he started working at a gas station, but in the back of his mother's mind she always knew that someday he was going to college. He remembers that even though she worked long days and never completed her degree, his mother attended college at night for nearly 15 years.  He clearly remembers his mother's hunger to learn – she would tell him that without a college degree he could very likely end up in a job he didn't like.  Her words seem to have been prophetic because Ed's supervisor at the gas station was a man that had little regard for people, treated the workers poorly, and paid them very little.
Ed later visited his older sister who was away at college. He witnessed the college students and how much they enjoyed learning, and it inspired him to enroll in the local junior college. From there he went on to earn his Bachelor's Degree in Business from Chico State University.
Ed's first job after college was as a community school director in charge of instituting after-school recreation programs in Greenville, California.  After two years he went to work at the Pebble Beach Golf Links.  While there he met several people who told him that the insurance business was a good opportunity, so he moved to Santa Barbara to work for Prudential Insurance Company as an agent, then agency manager. From there he went to work for Allstate Insurance and became a regional sales development manager. After five years he joined Fireman's Fund and four years later he ultimately went to work for State Farm Insurance where he started a career as an agent.  His plans were to live in a small town and have his own agency, and for six years he built a successful State Farm agency in Chico.
His success caught the attention of State Farm's leadership, and it led to a series of advancement opportunities and moves; San Diego, Bloomington Illinois, Philadelphia, and Los Angeles in 2008, where he is currently Vice President – Agency.  In this position he is in charge of the Agency force for the Los Angeles area, and has responsibility for approximately 400 associates. Los Angeles is a premier market due to the fact that the majority of California's growth is coming from areas with large Latino populations.
Ed credits his Latino heritage and work ethic for his ability to excel in his career. He very proudly notes that historically, State Farm agents who have a strong understanding of the Latino culture are successful, and that Spanish-speaking agencies do well at growing their business due to their ability to communicate in a language the customer prefers. And he's proud to note that State Farm is the number-one auto and homeowners' insurer in America.
When asked what advice Ed would give to Latino families, he said, "You must help your children understand that education is essential for success. Everyone learns differently and parents need to figure out a way to get their children into college or into an education/training program. Not everyone has to earn a college degree, but everyone needs an education that will help them be successful as adults."
When asked to give career advice, Ed explains that what really changed his professional life was his ability to be mobile and relocate for the next opportunity.  He refers to himself as a "migrant corporate worker".  He states that, "Many times people in our culture don't like to move," yet he quickly points out that, "Like so many Latino families, my mother's family, which included seven children, worked in the fields and had to move to wherever the crops were. This is no different than being willing to relocate and be present for the next opportunity in your professional life in order to improve yourself and be a better provider for your family. The lessons I learned from moving from one side of the county to the other have been invaluable."