It is Monday evening and Lilly Carrillo has just arrived home from another long day at work as a hair stylist. It is a career she has had for 30 years.
She takes after her mother who worked two jobs to provide for Lilly and her siblings. Her mother and father came to the USA from Mexico before she was born. They resided in East Los Angeles before moving to Pico Rivera, Calif. Her mother's first priority was getting a home and starting a life for the family. Carlota, Carrillo's mother, was a very strong Latina woman.
"She didn't take no for an answer.  She fought for her home, her life, and her kids to excel in their lives.  I really didn't know any other woman like that," said Carrillo. "Her strength gave me strength."
Carrillo had a secret though and was scared to share it with her mother. She feared being looked down upon by Carlota.  Ever since Carrillo was 16 years old she had been getting tattoos behind her mother's back. The tattoos were placed in areas where they were not visible and small enough to hide if needed.
"She threatened me that if I ever got one she would chase me down and burn it off with an iron," said Carrillo.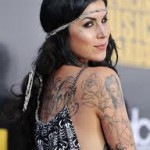 At 30 years old, Carrillo was still hiding her tattoos from her mother and wanted to change that. The  strategy was to slowly start showing her mother that women can be pretty even with tattoos.  Carrillo showed her mother pictures of Kat Von D and would say look how pretty she is. Her mother finally came around to see the beauty that her daughter saw in tattoos.
"People who still have a negative look on them are probably the older generation who saw it as something that was associated with gang activity and not knowing anyone else," stated Carrillo, "growing up in Los Angeles, the majority of people who had tattoos were men who were from prison or jail."
Tattoos have historically been a male tradition to mark rank in society, accomplishments in life or association with a specific group/region. As the artwork on the females becomes more visible, so does the issue of whether or not it affects their livelihood and relationships. According to Erin Fauble of the Alliance of Professional Tattooists about 60 percent of those getting tattooed are women.
"I don't regret it; sometimes I think what it would be like if I didn't get them but I really always wanted to. It has never held me back from excelling at anything I wanted to do," said Carrillo, " about 60 percent of my friends have tattoos."
Living in a Post-feminist society where more females are getting and exposing their tattoos, is this just a fad or something that will stick around? The condition that a tattoo lasts forever is not leaving the lasting effect on the younger generation.  According to a Harris Interactive Poll (2008), one out of three 25-29 year olds in America are inked.
"The art wasn't as catchy as it is now, there were things that I really liked but not like now. A couple of the tattoos I have don't have meaning and aren't really cute but the one on my arm and shoulder are those I put a lot of thought into and really wanted, " said Carrillo. The lilies in the picture took over 5 hours. "I do want to keep getting them and finish both of my arms."
Carrillo is not worried about will happen when her skin starts to age. Her perspective seems to be on the optimistic side.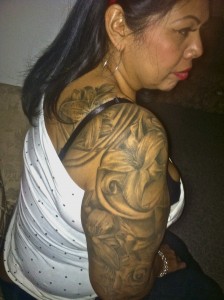 "I'm going to be wrinkled just like everybody else, except I am just going to be cool and wrinkled, whoever is going to be taking care of me in a nursing home might ask 'I wonder what her life was like?'" said Carrillo.Her tattoos are her own story, her own art, and they represent what she likes.
"I don't have to just look at it in my front room, it is always with me. I like showing what I like. I love the way it looks on a body," commented Carrillo.
Carrillo is a confident woman who carries her tattoos with pride.  She advises that if you are on the fence about getting a tattoo, make sure that it is something you really want to do and find an artist you trust.
"When I first started I wasn't too picky but when I saw art evolving and seeing what people could put on skin I started to really think about more techniques and started to do more research. The right artist can make the piece really come alive on you," said Carrillo. "The shock is gone, the stereotype is gone."
Do you agree or disagree? Why?  Tells us how you feel about your tattoos.
For a differing opinion see Better Off Bare: Life Without Tattoos