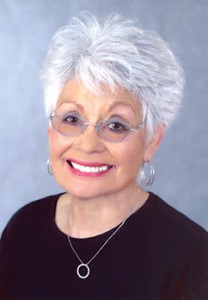 Elisa Reyes was a stay-at-home mom until her youngest daughter went to school.   At that point she went to work at the Veterans Service Office helping veterans with retirement-related issues.  She worked there for 20 years and it wasn't until she was age 58 that she changed careers and went into real estate.  In her first year she quadrupled her income and 25 years later, at 83 years of age, Elisa still works full time as a real estate agent for Coldwell Banker in Vacaville.  And by the way, she has recently been named Agent of the Year.
Work and learning have always been high on Elisa's priorities.  She was nine-years old when she got her first job selling creams and soaps door-to-door for the local drugstore. She didn't receive money as pay, but she remembers proudly getting a new coffee pot which she took home to her mother.
Elisa's grandparents came to El Paso, Texas from Chihuahua, Mexico and quickly became part of the fabric of our country.  Hard work and moving ahead by educating their children was the focus of family life; a trait that Elisa has carried with her all her life.
"It was very important to me to teach my children, from a young age, the value of work and the importance of education.  I had friends that were farmers who would hire kids to pick fruit, so I asked them to give my children jobs.  All three took jobs working in the fields picking fruit and cotton.  They didn't like it, but I felt that it was important for them to do.
"I was hard on Ed (see Ed Reyes Determination + Hard Work + A Mother's Influence = Business Success! ).  He had a lot of trouble in school – he just couldn't stay focused and sit still to study.  I thought he just wasn't disciplined, so I made sure that he finished his homework every night even if it took a long time.  I even went to his school and had him tested but they told me that nothing was wrong.  What none of us realized at the time is that Ed suffered from dyslexia, a reading disorder. And this is something my husband also suffered from as a child.
"Ed struggled all through school, but I made him finish high school. He didn't want to, but I told him he had to finish high school and then he could go out and get a job and pay rent.
"I remember he accepted a job working at a gas station.  He had a boss who treated him very badly and I told him that, "As long as you don't have an education, you're going to have to put up with it.
"At one point he went to visit his sister who was away at college and when he returned he told me that he had decided that he wanted to try going to college.  Enrolling at a junior college was the best choice for him, and while he was there he developed a love of learning. His leadership abilities started to bloom; he became president of his class.  By the second year he enrolled in Chico State University. I remember holding up four fingers telling him that I was only willing to pay for four years of college, so he need to apply himself and complete his degree in that time frame!
"I am very proud of Ed.  He not only completed his degree in the time I requested, but he has been tremendously successful in his career.  And most of all, he is an effective and compassionate leader who is highly regarded by the people he works with.  That gives me great joy.
"I'm 83 years old and people ask me when I'm going to retire.  And I ask, 'Why?' I think that as long as you're able to get around you should always be doing something you enjoy.  I really enjoy my work and I greatly enjoy volunteering in the community and at my church.  So I don't think I'll retire any time soon!"
"My advice to families with young children is to make sure you instill in your children the desire to learn and make sure that you have fun.  It's important to once in a while take some type of family vacation – these don't have to be expensive, but just a chance to have fun with each other."